Ellen Hutson March 2020 Release
Hello, friends! Thank you so much for stopping by my stop on the Ellen Hutson March Release blog hop. We've got tons of inspiration for you today so let's jump right into my projects for the day!
First up, I'm sharing a project I created using the Clever Sausage stamp and die set. I can't get enough of this adorable pup and the pun-ny sentiments that accompany him. I used the "I'm The Wurst" sentiment here with some cute DIY polaroids of our clever sausage in party attire. This card came together so easily once I had the idea in mind, and I love that the sentiment is a playful way to address a touchy subject of missing someones birthday.
Next I'm showing the Mondo Succulent stamp set, which, like all of the Mondo sets, is so fun to color. The amount of space available to shade and color makes this set a must have for coloring enthusiasts.
Here I'm sharing the brand new Striped Background stamp which is great for so many types of designs and cards. I used a nice light pink colored ink to stamp onto a piece of card stock cut to 4" x 5 1/4". I loved the design for a baby shower card, so I created my sentiment "oh, baby baby" from the Classic Block Alpha die set. I love that this is a modern but classic way to welcome a friend's baby into the world. I love the glitter card stock against the light pink color of the stripes.
I hope you'll continue to hop along with us! Your next stop on the hop is the incredibly talented
Lisa
!
You can find links to the new release below and the entire hop list just below that! Thank you so much for stopping by, I hope to see you again soon!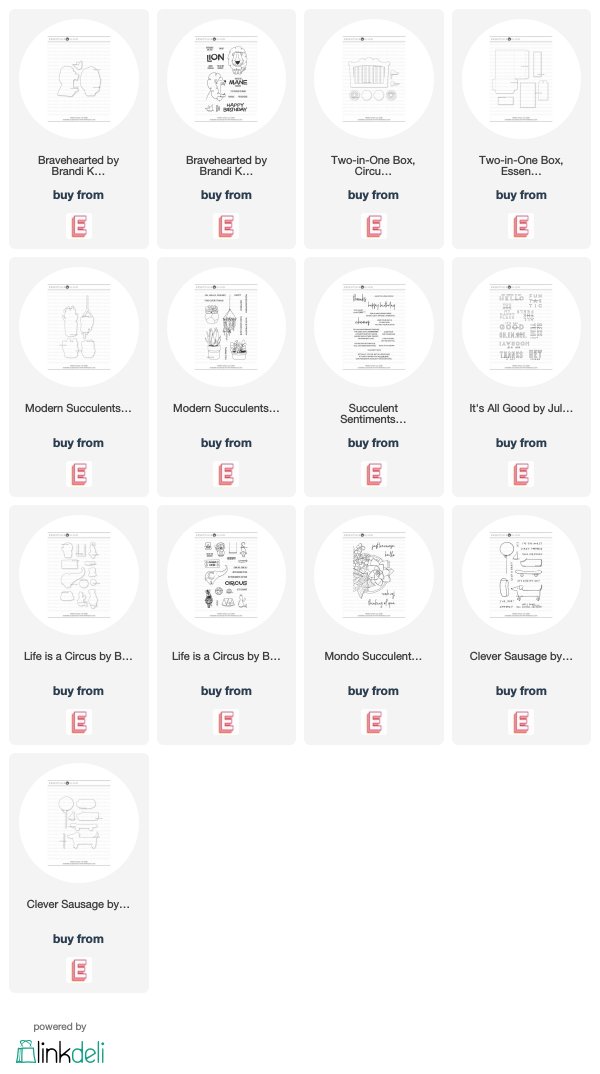 Carissa
http://www.sprinkledwithglitter.com/blog/essentials-by-ellen-march-2020-release-blog-hop
Brandi
http://www.brandikincaid.com/blog/lifeisacircus
Kelly
https://notablenest.blogspot.com/2020/03/essentials-by-ellen-march-release-blog.html
Laurel
https://wp.me/p59T5f-4Jw
Emily Midgett
https://emilymidgett.com/?p=5006
Sandy
http://sandyallnock.com/easy-mondo-watercolor-succulents
Adelina
https://estudio206.com/blog/ebe-march-release/2020/3/8
Carolyn
https://carolynpeeler.typepad.com/cut_n_paste/2020/03/modern-succulents-low-maintenance-friends.html
Ardyth
https://ardythpr.blogspot.com/2020/03/ebe-march-2020-release-essential.html
Emily Mydlowski
https://popsofpaper.wordpress.com/?p=885
Elena
http://justmeprints.blogspot.com/
Ashlea
https://www.ashleacrafts.com/2020/03/ellen-hutson-march-2020-release1.html
Lisa
https://sideoatsandscribbles.wumple.com/?p=19455
Michele
https://icardeveryone.blogspot.com/2020/03/essentials-by-ellen-march-2020-release.html
Caly
http://calyperson.com/?p=16117
Therese
https://wp.me/p12Y5e-6SM
Jessica
https://www.allthesparkle.com/ebehop320
Carly
http://www.carlytee.com/2020/03/easy-interactive-cards-with-essentials.html
Julie
https://julieebersole.com/blog/ebe-march-release-is-now-live